Site-finished Wood Floor Pre-Installation Checklist
Installing a new wood floor is a construction project. Some installation materials produce strong odors, and some construction activities are noisy. If you'll be living in your home while your new floor is being installed, plan accordingly to minimize disruption. Keep in mind that for a period of time, you won't be able to use the room receiving the new floor. It typically takes three to four days after the acclimation period to install a new floor, depending on subfloor conditions.
Wood Species Matter
Different hardwood flooring species tend to absorb stains in various ways. Keep this in mind before you choose a particular stain color. Red or white oak floors, tend to be the perfect candidates for staining. These materials are known to absorb stains well, In contrast, exotic wood species such as cherry, maple, mahogany, walnut, etc. have tighter grains and smaller pores, that's why we discourage you from staining them. There's a great chance you won't be satisfied with the result. It may be best to enjoy their natural beauty in its unstained state.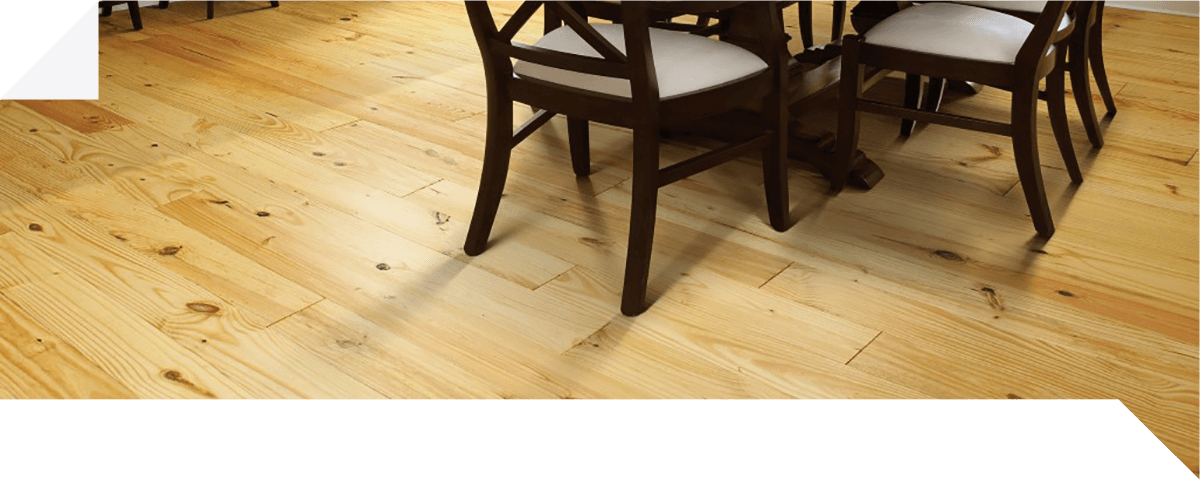 Hardwood Flooring
Before installation day, be sure that:
The installation site is completely enclosed, with outside windows, doors and thresholds in place.
All wet processes (like drywall or plaster) are finished well before installation.
Air conditioning, heating and ventilation systems are operable.
Electricity and water are directly available in the work area.
Any new, unfinished quarter-round or base molding that you're providing for installation has been painted or stained. We recommend that you complete painting or staining at least 24 hours prior to installation so the finish is completely dry before installation
For areas directly affected by the installation:
Cover the installation area's entryways and vents to contain dust and debris.
Create a clear path through your home for easy access to the installation area and removal of debris.
Cover furniture and floors along this path and in areas adjacent to the installation.
Remove all items from cabinets, entertainment centers, bookcases, closets and similar containers.
Move all breakables, such as lamps, vases, mirrors, wall hangings, antiques or other valuables, from areas affected by installation work.
Disconnect and remove all electronic equipment, including televisions, stereos and computers.
Remove all electrical wires running under carpets or along baseboards and door casings.
Move furniture out of the room receiving the new floor. If you prefer, Royal Home Flooring can move furniture for you for an additional charge (see your purchase order to check if this service was added).
Please Note for any Appliances we will need at clearance on each side & ample space inside the home/work areas to ensure we have access to refinishing under the appliance areas. Please note we do move dishwashers in any circumstance. We also do disconnect any electrical, plumbing, and/or gas lines from any appliances. If there is no access to remove/pull out appliance, we will then refinish around that area. Any appliances of high value or is considered a specialty appliances will be moved and will have to require a professional to come out and move the appliance.
Acclimation Period
Unfinished Wood flooring material needs to acclimate (adjust) to the moisture and temperature conditions of the installation environment for at least three days (72 hours) before it can be installed.
Pre-finshed Hard Wood acclimates in sections in our warehouse that are both Temperature & Moisture controlled prior to installation When the flooring material you ordered arrives at Royal Home Flooring, we will contact you to arrange a convenient delivery date, depending on the current seasonal climate as well as an installation date three or more days later.
On installation day, our licensed, insured installers will be on time, courteous and efficient. They'll have the equipment they need, and they'll be ready to install your new floor. You won't need to provide any special tools or materials. Just meet these simple requirements:
If there is a balance on your account we do require payment prior to the installation of your flooring
Make certain to have an adult (over age 18) with the authority to make installation decisions on hand during the installation process.
Please note that Royal Home Flooring will replace no more than (5) FIVE hardwood planks per room. If plank replacement was added on your flooring agreement the contract holder must be present at the time of installation and show our installation crews the planks that need replacing. This will need to be documented and signed off on. For any additional plank replacements there will be an extra charge of $30.00 per plank
Keep the temperature in the installation area between 65° and 74° Fahrenheit.
On the day of installation, you will need to communicate with our installation crews that arrive at your home and let them know what color stain you are requiring. Once the installation crew have sanded down the wood floors, they will prep an area and lay down 4 color samples to choose from. Once the color is picked out, they will present you with a Stain Sign Off sheet to sign off. If for any reason after the stain color you picked has been applied and you are not satisfied with the color, Royal Home Flooring will have to charge you for re-sanding & reapplying a new stain plus any additional charges that may incur. So, it is highly important to go over the stain color options prior to signing off on the stain sign off sheet
Keep children and pets away from the installation area.
When the installation process is complete, our installation team will:
Clean the installation site.
Remove all installation-related debris.
Conduct a final inspection of your new floor and the installation site for your approval.
Provide you with warranty and care information for your new wood floor.
After Installation Completed
Before you use the new floor or move into the room, make sure the floor's finish is completely dry. An unfinished wood floor is sanded, stained and finally sealed with one or more coats of finish. Each time a stain or finish coat is applied, the floor must be left to dry overnight. When the installers leave after applying the last coat of finish, you should wait 24 hours before you do anything in the room – do not walk on the floor during this time. If you do, the floor will be damaged.
Change your air filters.
Complete any touchup painting required on walls, doors or trim.
Make sure all doors work properly. If your new floor is substantially thicker than your old floor, your doors may no longer swing freely. You may need to hire a carpenter to trim them or to install replacements.
Carefully move furniture and other items back into the room using the proper moving equipment.
Refinishing of hardwood flooring will cause dust throughout the areas of the home. Even though we use a dustless system, dust gets transferred through the HVAC system along with movement in the home. We recommended hiring a 3rd party cleaning company after we finish the installation to ensure your home is clear & safe to live in. Royal Home Flooring does not provide and/or compensate for any cleaning services.
If you have any questions about the installation process, we're ready to help. You can reach us at (708) 430-4663 or info@myroyalflooring.com