Searching for a trustworthy flooring company in Westchester, IL? Look no further than Royal Flooring. Coupled with expert refinishing services, our extensive selection of premium carpet, laminate, vinyl, and hardwood flooring options ensures your satisfaction. 
We offer competitive pricing and flexible financing solutions to accommodate your budget. Count on our exceptional workmanship and longstanding reputation to bring your flooring aspirations to fruition.
Impeccable New Floors Can Be Yours For Less in Hodgkins, IL
Royal Flooring is the ultimate choice for top-notch residential flooring services in Hodgkins, IL. Explore our wide range of high-quality hardwood, vinyl, carpet, and laminate flooring products, accompanied by expert refinishing services, all at an unbeatable value. 
Our pricing is unrivaled, and we stand by it with a competitive pricing guarantee, covering the difference plus 10% if you find a better deal. We also provide financing solutions, including interest-free plans for qualified customers, ensuring accessibility for all.

Shop Reputable Flooring Brands and Products All in One Place
For homeowners who demand nothing but the finest residential flooring services in Hodgkins, IL, Royal Flooring is the ideal choice. Enhance the beauty and value of your home with our expansive range of top-quality hardwood, vinyl, carpet, and laminate flooring solutions, coupled with our expert refinishing services. 
Discover durable flooring materials from well-known brands such as Bella Cera, Shaw, Mohawk, SmartStrand Forever Clean, Bruce Hardwood Floors, and Armstrong Flooring.
The Best Flooring Services Make the Process Painless
Royal Flooring goes above and beyond to deliver excellence beyond our flooring product offerings. Our commitment to the Royal Promise means that we prioritize treating our valued clients with respect from start to finish. 
We accommodate even the craziest schedule, providing complimentary in-home consultations and delivering highly professional customer service. Our skilled installation experts handle the job with precision and care, ensuring a seamless flooring upgrade without any inconvenience.
The Flooring Reviews Say It All
Explore our numerous positive reviews to understand why Royal Flooring has become the preferred choice, earning the trust and loyalty of local Chicago-area clients. 
We have achieved stand-out ratings on Google, along with recognition on respected platforms like Yelp and Angie's List. Furthermore, our A+ grade from the Better Business Bureau is a testament to our undying commitment to delivering exceptional service.
Cover Your Bases to Make the Right Flooring Services Hire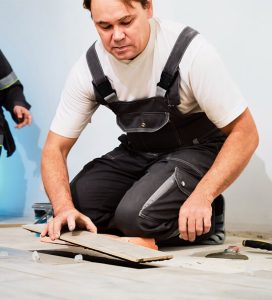 Achieve a sense of certainty in your choice of a flooring company in Hodgkins, IL, by conducting diligent research. 
Start by getting a solid idea of your specific flooring needs, encompassing product preferences, desired services, and budget considerations. 
Assess local companies' prices and services to ensure they align with your expectations, and seek recommendations from trusted sources. 
Additionally, verify the qualifications and credentials of prospective companies before making a final decision. 
Finally, gain a glimpse into the company's reputation by reviewing online ratings and reviews. 
These guidelines will help you discover excellent flooring services while avoiding wasting time, money, or energy on unexpected issues.
A Free, All-Inclusive Quote Can Be Your First Step Forward
When the time comes to replace the floors in your Hodgkins home, make Royal Flooring your first choice. Call us to obtain an all-inclusive, complimentary quote that's transparent and helps you prevent unforeseen costs. 
Discover the benefits of our lifetime installation warranty, our commitment to quality assurance, and our guarantee of the best prices available. Call us at 773-257-0784.