When you're renovating your home, you want to avoid any unnecessary stress, extra costs, delays, or installation flaws. That's why it's essential to choose a dependable residential flooring company to redo the floors in your Cicero, IL home. 
At Royal Flooring, we offer a variety of flooring options, such as hardwood, carpet, laminate, and vinyl, along with top-quality installation services. We pride ourselves on providing excellent products, skilled workmanship, and competitive prices, so you can enjoy your new floors with peace of mind. Let us make your home renovation project a breeze with our Royal Promise.
Everything You Want, from Selection to a Reasonable Price Tag
If you want to improve your home's condition and comfort, flooring refinishing or replacement is a great place to start. At Royal Flooring, we can help you realize your home improvement ideas without a crazy price tag. 
At the guaranteed best prices on the market, we make a vast selection of high-quality flooring materials available to you including carpet, vinyl, laminate, and hardwood, in various styles, colors, textures, and finishes. 
Moreover, we have financing options with zero interest for customers who qualify. Let us provide you with the best flooring installation, refinishing, and other services that match your needs, style, and budget.
Get the Best Flooring Materials from Reputable Brands in Cicero
For good-looking and long-lasting flooring that compliments your Cicero, IL home, Royal Flooring offers a wide range of top brands and products. With so many top-notch options, you can be certain that your investment will be a worthwhile one.
Choose from dependable flooring brands like Mohawk, Armstrong, Shaw, Bruce, SmartStrand, and more for your hardwood, carpet, and vinyl flooring. 
You can also browse a plethora of colors, textures, styles, wood species, and stains until to find the perfect match in look, feel, price, durability, and function.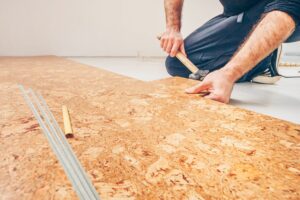 Reliable Flooring Services that Won't Disappoint
Are you excited about the idea of new or refinished floors, but tentative about the installation process? You may have heard stories about unprofessional, time-consuming, or disorganized home improvement services.
At Royal Flooring, we uphold a Royal Promise to never let you down. This ensures exceptional customer service, a free in-home consultation, and scheduling that puts you first.
Our expert installers are trustworthy, trained, and skilled, handling the installation process with care. We provide quality assurance, a lifetime installation warranty, and a low-price guarantee for your peace of mind. 
We are committed to helping you every step of the way, simplifying the flooring process, and enhancing your home. Choose Royal Flooring for the best flooring installations and services done right the first time.
Why Homeowners Throughout the Chicago Area Are Buzzing about Royal Flooring
If you want some reassurance that Royal Flooring is the flooring company for you, just look us up online. With over 300 satisfied reviews from customers in the Chicago metro area, Royal Flooring is one of the top-rated flooring companies on Google. We boast an A+ rating from the Better Business Bureau, as well as recognition from Angie's List and Yelp.
How to Decide Which Flooring Services to Hire in Cicero
Though we stand by our reputation at Royal Flooring, we encourage you to gather plenty of information before making a decision. Here are some tips to help you find the right residential flooring services company:
First, determine your flooring needs, budget, and desired products/services.

Then, make a short list after contacting local businesses and comparing.

Before your final decision, verify each company's credentials (certifications, licenses, insurance, and experience).

Additionally, find online reviews and ratings to compare companies' reputations.
By taking these steps, you can find a reliable and affordable flooring company that has everything you're looking for.

See How Royal Flooring's All-Inclusive Estimate Stacks Up to the Competition
Your Cicero, IL flooring company search would be incomplete without contacting us for an all-inclusive cost estimate. 
Call today at 773-257-0784 and we'll tell you what to expect based on the information you provide. We can also answer your questions about our pricing, financing, installation warranty, and quality assurance policies, and more.
Why not find out how accessible new floors can be when you go with Royal Flooring?