For homeowners trying to find the finest residential flooring and services in Tinley Park, IL, Royal Flooring stands out as a reputable choice. Whether you're renovating your home for a quick sale or seeking a fresh look, the last thing you want to deal with is hidden costs, subpar workmanship, or unreliable scheduling. 
Our commitment to customer satisfaction ensures that we provide transparent pricing, superior quality materials, efficient scheduling, exceptional customer service, and expert installation. With a wide range of flooring options, including hardwood, carpet, laminate, and vinyl, we have the perfect solution for your Tinley Park home.
Great Prices for Great Flooring Options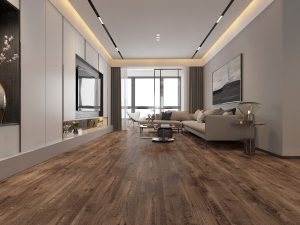 If you're a Tinley Park homeowner seeking cost-effective flooring solutions, you're in luck at Royal Flooring. Our local flooring services and installation company offers an extensive selection of high-quality flooring products at the most competitive prices. From luxurious carpet to timeless hardwood, and versatile vinyl to durable laminate, we have options to suit every style and budget. 
With our price match guarantee, we ensure that you'll receive the best prices on the market. Additionally, qualifying customers can explore our attractive financing options, providing the opportunity to finance your new floors over 12-36 months with no interest.
Convenient and Friendly Service from Your Local Flooring Experts
At Royal Flooring, we strive to make the process of getting new floors installed as hassle-free as possible for Tinley Park, IL homeowners. We value your time and understand the disruptions that home improvement projects can bring. 
That's why we offer a seamless and convenient experience. Starting with a complimentary in-home appointment, we take the time to listen to your needs and preferences. Our flexible scheduling ensures that we work around your busy lifestyle. When it's time for installation, our skilled and trustworthy experts will handle the job with precision and efficiency. 
We provide a quality assurance policy, a lifetime installation warranty, and a low-price guarantee to give you peace of mind throughout the process. From start to finish, our dedicated customer service team is here to assist you every step of the way.
Hear the Chicago Metro Area's Opinion
Dive into the testimonials of residents in Tinley Park and the wider Chicago area regarding Royal Flooring. With an impressive number of over 300 satisfied customers who have taken the time to leave complimentary reviews, we have emerged as a highly regarded flooring company on Google. Moreover, our A+ rating from the Better Business Bureau and the recognition we have received from esteemed platforms like Angie's List and Yelp reflect our unwavering dedication to delivering exceptional quality and service.
Essential Tips for Selecting a Flooring Company in Tinley Park, IL
Begin by establishing a clear vision of your flooring needs, making it simpler to find a company that can fulfill them. 

Contact various companies to inquire about their offerings and pricing, matching them with your requirements. 

Conduct online research to read reviews and gather recommendations from trusted sources. 

Prior to making a decision, verify the company's experience, training, certifications, licenses, and insurance, especially for specialized flooring services. 

Lastly, compare quotes from different providers and arrange consultations to make an informed choice.
Start With a Free Quote
Get a Complete Flooring Estimate from Royal Flooring by dialing 773-257-0784. Inform us about the flooring materials and services you need for your Tinley Park, IL home, and we'll furnish you with a comprehensive price quote upfront. To further assist you, we'll also coordinate a complimentary in-home appointment, bringing you one step closer to attaining the exquisite and practical floors you desire.